Meet Dana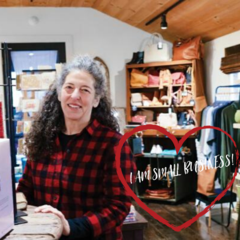 Tia Dana started with a desire to seek out beautiful and useful items for life and the home that are made with love, thoughtfulness, and detail. Items with timeless qualities created by people with a passion for what they do, and a care for the future of the world we live in.
We provide quality goods with an honest provenance that we use in our day-to-day lives, items made to last that will not fuel the throwaway nature of the modern world.
Curating beautifully considered, functional items for others to enjoy is our passion.  By sharing these items, our intent is to connect those who do things well with those who are appreciative of them.
Meet the Tia Dana Team
Jordan hails from Chicago, IL – but grew up in Hendersonville, NC – and got connected to Dana through a long-time friend. When Tia Dana Highlands was just a few months old, Jordan joined the team. She now calls Clayton, GA, home and makes the beautiful mountain drive to spend the day with you in Highlands!
Jordan learned to knit when she was in middle school, but always needed her mom's help with casting on and binding off. Eventually becoming a fully-independent knitter, she stumbled upon a huge bag of beautiful wool yarn at a Goodwill for $5 while in college and has been hooked ever since. Her stash has multiplied exponentially over the years, which is part of what inspired her to pursue weaving.
You can find some of Jordan's finished work at the Highlands shop and on Etsy at Vagabond Fiber Arts. Jordan loves to travel and live abroad, which is where some of her yarn collection comes from! She has lived in Germany, China, and South Korea.
When Jordan is home, she enjoys the company of her cat and tries to find the motivation to love cooking (if she could only stop weaving)! Jordan really appreciates the quality and variety of products available at Tia Dana. Knowing customers are walking out with something that is made well and could last them for years is the kind of retail therapy Jordan supports!
Isaddora Propper
8452 Old 441 S
Lakemont, Georgia 30552
https://www.facebook.com/IsadoraPopper